A Light BMS to save energy in existing tertiary buildings
If your tertiary building is more than 1,000 sqm, it is probably subjected to the Tertiary and BACS decrees. To help you comply with those decrees easily, Smart & Connective offers a light, fast and affordable BMS.
Comply with legal obligations
Le Décret BACS a été mis en place pour vous aider à atteindre les objectifs fixés par le DEET (Dispositif Éco Énergie Tertiaire)…
Une solution clé en main sans travaux
Un seul interlocuteur (votre intégrateur) pour installer une GTB sans travaux et simple à prendre en main ! 
Make energy savings without using all your savings!
Économiser jusqu'à 35% sur votre facture énergétique en investissant moins de 10€ au m2 et en bénéficiant des financements CEE…
Why the Smart & Connective BMS?
Beyond the fact that an automation and control solution will be mandatory in your building from 2025, here is why the Light BMS proposed by Smart & Connective is the ideal solution for existing tertiary buildings:
Créez simplement avec votre intégrateur vos scénarios d'économies
d'énergie ou de gestion des opérations.
-Hypervision portal for one or several sites
-Oversee your building in live
-Create your personalized reporting
-Manage alerts to send to your teams
Keep the control of your building!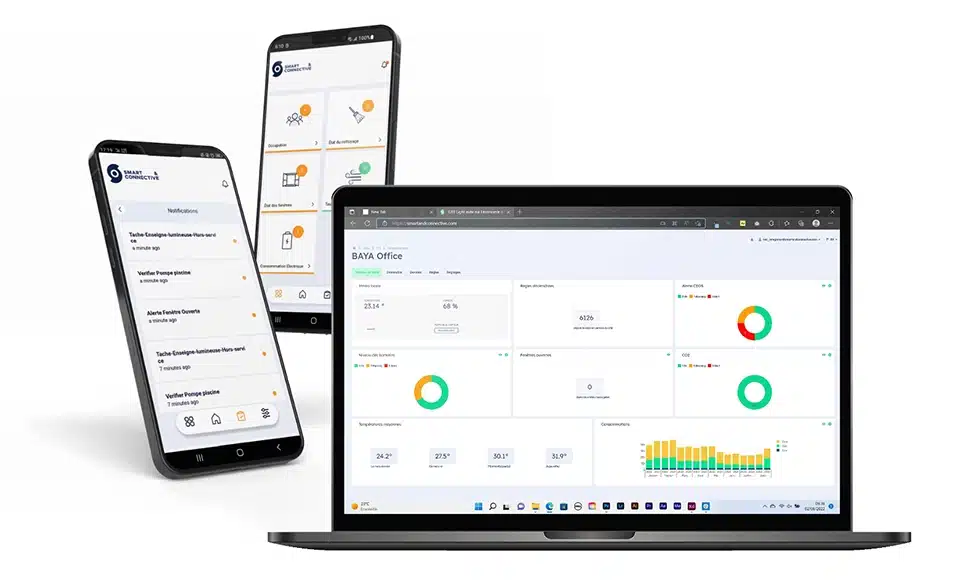 « L'équipe de Smart & Connective connaît son sujet sur le bout des doigts. Ils ne proposent pas juste des produits Zigbee / Zwave communiquant avec leur plateforme, mais un écosystème complet et bien pensé, permettant d'intégrer une GTB performante au juste prix.»
"A professional BMS easy to install and above all that ensures the main goal of energy savings with the freedom of programming and creation of different scenarios using a very simple tool."
"A young and dynamic team of proposals, with a promising system."
Discover our Light BMS solution as well as frequently asked questions in our short videos. Don't hesitate to contact us if you have further questions about our operation.
Décret Tertiaire et Décret BACS
Automate your energy savings
Smart & Connective is a Light BMS that turns your tertiary building into a connected and smart building.
Easy to install and to handle (IoT technology)
No construction work needed: ideal for the energy renovation of tertiary buildings
Class A and B BMS to be confirmed to the BACS Decree and save as much energy as possible
Flexible and compatible with your facilities
Smart & Connective, a Light BMS:
Smart & Connective surrounds itself with the best actors of the market to guarantee an optimal functioning of your BMS. 
At S&C, we believe that it is by joining our forces and our skills that we will help tertiary buildings to move towards more energy efficiency.