Our Light BMS for tertiary buildings
Whether public or private, tertiary buildings share common preoccupation concerning energy savings, scale economy and CSR policy. These issues are all the more topical, at the dawn of the implementation of the Tertiary and BACS decrees.
Benefits for tertiary buildings
1. Quick and significant energy savings
As part of a CSR policy or in order to reach the goals set by the Tertiary Decree, tertiary buildings quickly need an efficient solution. Smart & Connective will allow you to save energy up to 40% as soon as it is installed.
2. A turnkey and easy to use BMS
In only 30 minutes per room (a room like an office or a hotel bedroom), the Smart & Connective BMS is ready to use (hardware AND software)! The building operator is then totally autonomous to create its own energy savings scenarios.
3. A simple and low-priced solution to deploy in an existing and occupied tertiary building
Standard BMS are usually expensive and made of heavy equipment. Today it is easy to find new and easier BMS (lighter equipment, IoT oriented instead of operating on the main system) for a cost between 12 and 20 euros per square meter. Smart & Connective offers the same possibilities and will be the first solution costing less than 10 euros per square meter and to save energy up to 40%!
4. Eligibility for EEC forms (Energy Efficiency Certificates)
EEC forms have been created by the Ministry of the Ecological Transition in order to accelerate France's energy transition. The class A or B Light Smart & Connective BMS, can be financed thanks to the EEC forms, in particular the BAT-TH-116. This will allow to comply your tertiary buildings with the decrees and your CSR policy.
5. A system that adapts to its environment
Dans votre bâtiment tertiaire, vous pouvez choisir d'activer vos scénarios d'économie d'énergie en fonction de l'occupation de vos espaces ou de l'environnement extérieur et ainsi agir sur l'éclairage, la climatisation ou le chauffage. La fréquentation des espaces communs vous permet également d'adapter la production de chaud/froid en fonction des besoins réels.
6. Predictive maintenance
Your Smart & Connective solution allows you to spot lower performance of any device before it even impacts your building's operations. You can detect at a glance any malfunctioning equipment to warn your maintenance staff. You can therefore act faster and guarantee a longer lasting life for your installations.
Tertiary buildings over 1000 sqm are subjected to the Tertiary Decree that frames the energy savings bonds over the next 30 years. The first deadline of September 30, 2022 requires building owners or operators to report a base year on the OPERAT platform, which will then serve as the basis to initiate a strategy to reduce energy consumption.
Buildings with an air conditioning or heating system with a rated power of more than 290 kW (usually the same type of buildings subjected to the Tertiary Decree), are subjected to the BACS Decree: Building Automation and Control Systems. This decree was established in order to help tertiary buildings reach the objectives set by the Tertiary Decree. Indeed, by installing a class A or B BMS, the building is automatically more efficient and makes significant energy savings.
Case study – Tertiary buildings
Jane is the CEO of a communications company. She and her 50 employees work in a modern building downtown. The skylight in the open space gives all its charm to the building but in the summer it can get really hot, forcing them to use the AC at full speed, even during the night. With her Smart & Connective solution, she can decide when the blinds will automatically be closed (when the temperature reaches 23°C) and when the AC should be automatically switched on (to keep the temperature between 22 and 24°C).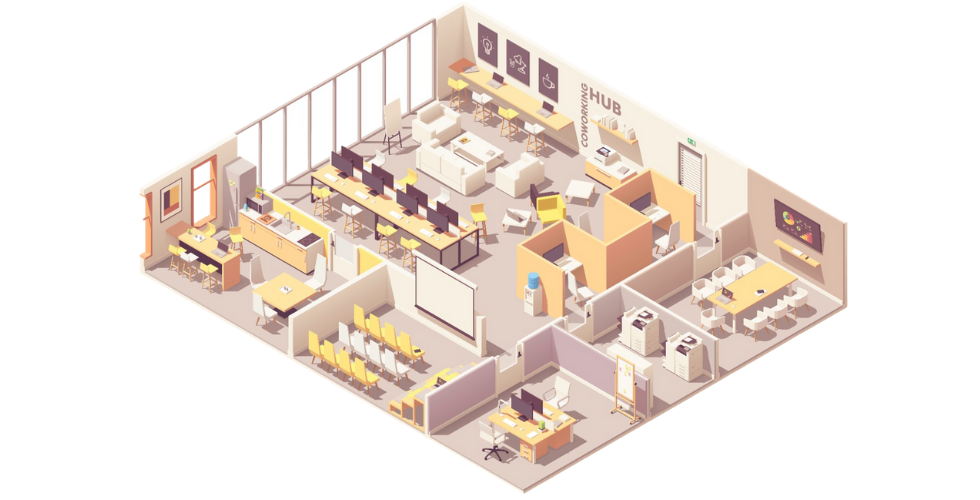 Carol is the owner and operator of a hotel subjected to the Tertiary and BACS decrees. To comply with the regulations while maintaining an optimal level of comfort for her customers and employees, she has installed the Light Smart & Connective BMS in the common areas and in each room of her establishment. This allows her to optimize the heat/cold production according to the occupancy rate in the catering areas or her conference rooms for instance. She can also create energy savings scenarios in rooms by limiting set-point temperatures or by automating the AC shutdown whenever a window is open.
Mark is the headmaster in a high school with 350 students. Concerned about energy savings, he automated lighting and heating according to a precise schedule because he realized some rooms remained lit during the night while others were so heated that teachers had to open a window in the morning! Only using these simple settings (no need to invest in new heaters), he observed a 30% cut on his energy consumption within the first month! Moreover, he has installed air quality sensors that will alert him in case of need of air renewal or automatically start of a ventilation cycle. A real bonus for students and teachers' health!